B.E. Well Patches Monthly Autoship
$55.00 – $80.00
描述
B.E. Well Patch Autoship Subscription – 10 or 20 Patches Shipped Every Month.
Save Big and get Free USPS. You'll get your B.E. Well Patch order shipped monthly on the anniversary date of this order (if it falls on the weekend, it will be the next business day). By purchasing this Autoship Subscription, you are agreeing to the Terms and Conditions below. If you have any questions, feel free to call us at (417) 973-0000.
BE Well Patch -A Behavioral Wellness Support from Tuning Element on Vimeo.
Includes Free USPS First Class Mail Shipping


The B.E. Well Patch applies like a temporary tattoo and is a 1.25 X 1.25-inch square. The patch is made of a silicone base infused with Titanium Salt and embedded with a proprietary blend of Extremely Low Passive Electromagnetic Frequencies. The BE Well Patch is non-invasive and has no medications, herbs, vitamins, chemicals, odor or any other additives. For most people outside of the Nanobioscience field, the use of beneficial frequencies for wellness would be a new concept. The patch is non-transdermal, meaning nothing physical passes from the patch through the skin. As mentioned, the patch is made of silicone and has "Titanium Salts" which is a term for Titanium powder that is in the patch. This is the material that we've infused with a blend of beneficial low-range frequencies (much lower than even AM or FM radio). When the BE Well Patch is placed on a person's body, their skin acts as a capacitor, and the existing electricity in the human body amplifies the frequencies in the patch. The human body produces 50-90 millivolts of electricity, which serves as the battery for the patch…so everyone wearing the BE Well Patch can receive the benefits of the frequencies. How do frequencies from a BE Well Patch help a person? The short answer is that the BE Well Patch helps supports normal cell function throughout the body's electric system, or as the United States Institutes of Health call the Biofield. Includes 10 patches with FREE USPS Priority Mail Shipping

If you've experienced the all-consuming trauma that a child with behavioral issues can inflict upon the entire family, then you know how even the slightest progress with an all-natural product can be monumental for reconnecting a family that's been coping quietly for years. Becky D. said it best:  "Everyone who has a kid with autism should have access to this patch."
Since 2010, Tuning Element Technologies has been developing proprietary Extremely Low  Electromagnetic Frequency blends to benefit the body's overall homeostasis and wellness support. Our products emit beneficial frequencies for supporting cell function in your body via the human Biofield.


In 2009, we started designing and testing various passive frequency blends to support the brain's neural pathways throughout the body. Our early breakthroughs in successfully supporting the body led to the establishment of Tuning Element, LLC in 2010. By 2016 this type of human biofield support showed amazing results in children and adults as, essentially, the brain and the gut were working better together to provide what the body needs for clearer thinking, which leads to better choices and better behaviors.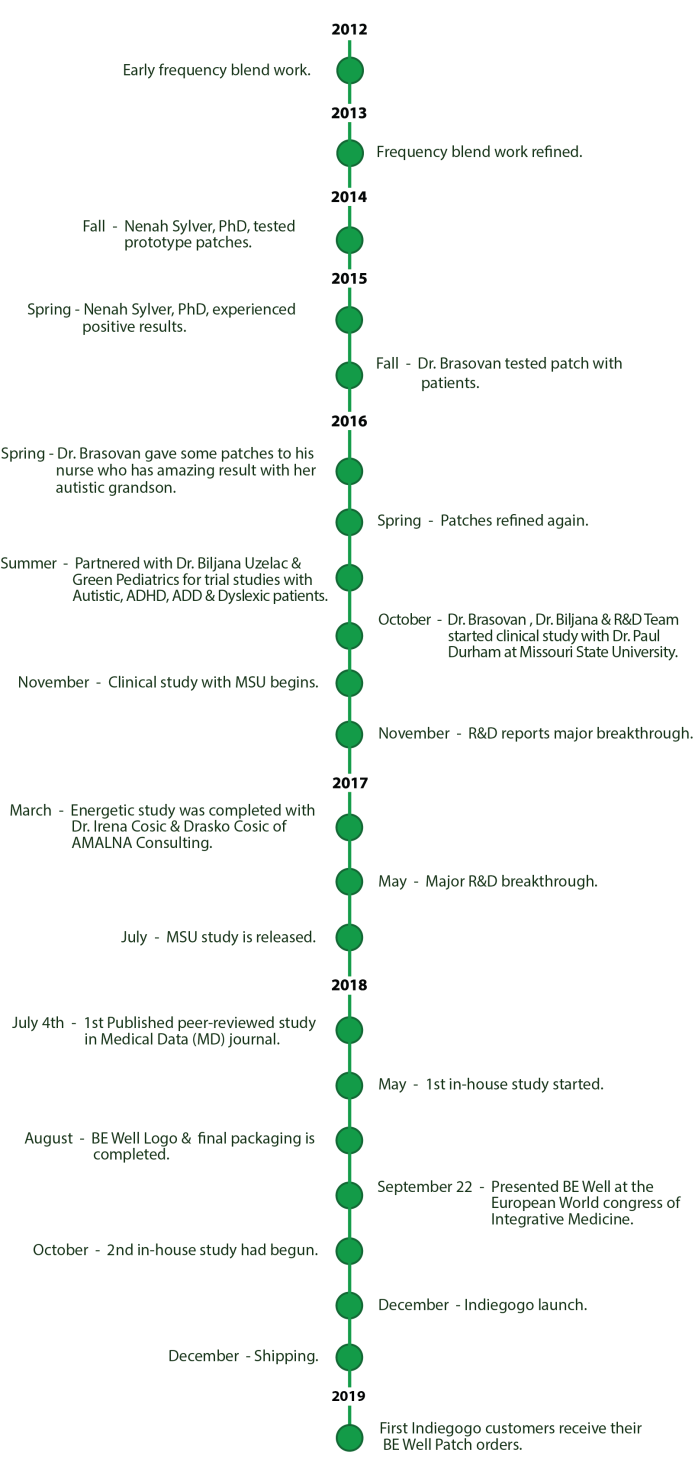 When we saw that the patch was making a significant impact on children with behavioral disorders, we initiated multiple independent peer-reviewed studies of the B.E. Well Patch with a number of leading researchers.
Including Dr. Biljana Uzelac of Green Pediatrics and Family Care studied the impact of the B.E. Well Patch on children. These studies were overseen by one of the founding members of the American Holistic Medicine Association, Dr. Srbislav Brasovan, M.D., F.A.C.O.G.  AMALNA  Consulting's Dr. Irena Cosic further researched the impact of the B.E. Well Patch from 2017 to 2018. The results produced a tremendous amount of excitement and were published in the journal Medical Data: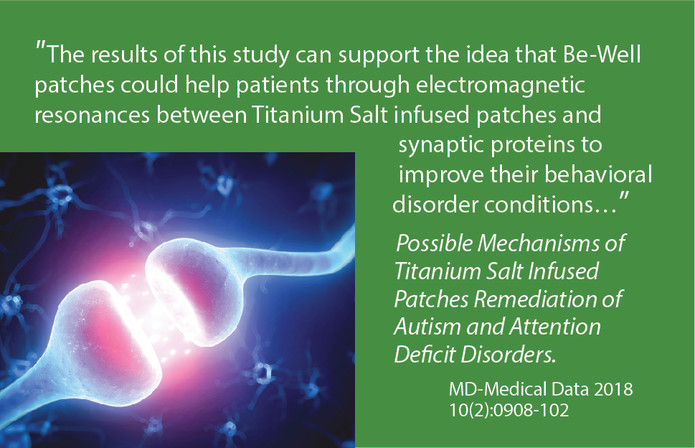 "The results of this study can support the idea that Be-Well patches could help patients through electromagnetic resonances between titanium Salt infused patches and synaptic proteins to improve their behavioral disorder conditions without using drugs and their negative side effects." Cosic, Irena & Cosic, Drasko & Uzelac, Biljana & Brasovan, Srbislav. POSSIBLE MECHANISMS OF TITANIUM SALT INFUSED PATCHES REMEDIATION OF AUTISM AND ATTENTION DEFICIT DISORDERS. MD-Medical Data 2018; 10. 97-102.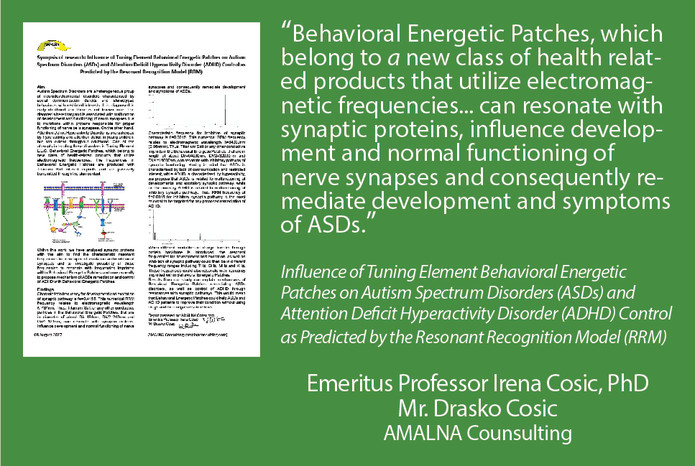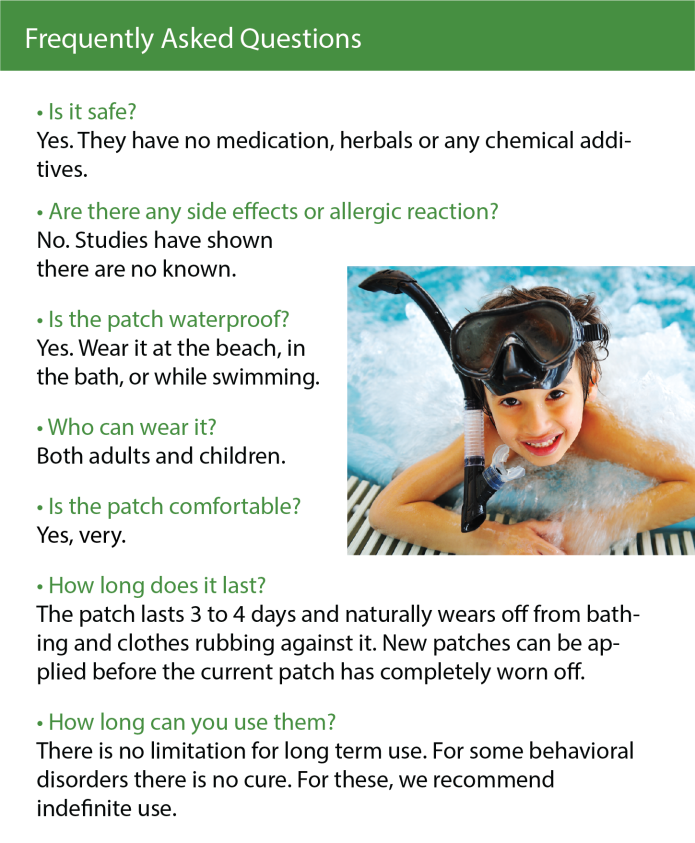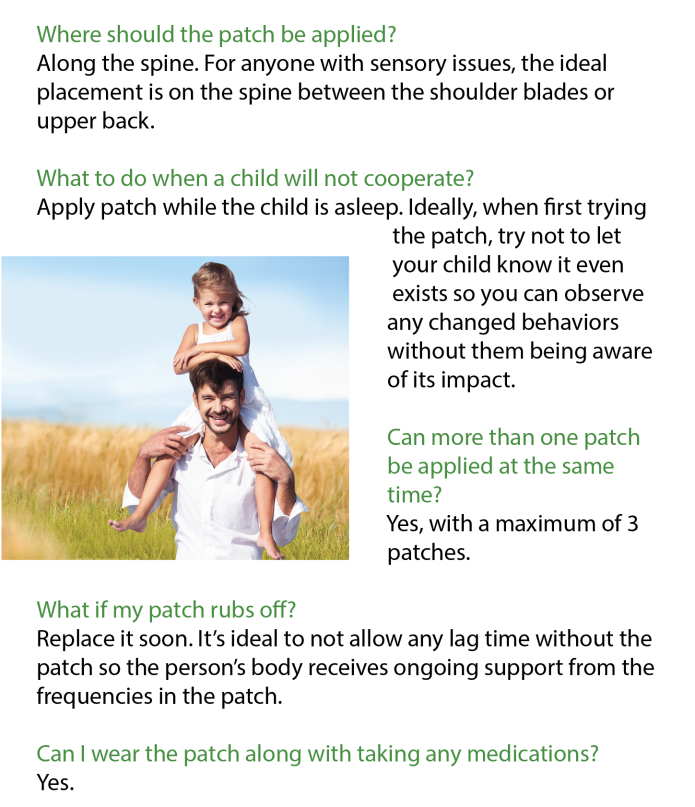 TUNING ELEMENT AUTO SHIP CUSTOMER AGREEMENT TERMS AND CONDITIONS
I understand that by purchasing the B.E. Well Patch Autoship Subscription, I am agreeing to all terms and conditions listed.

I understand that as a Tuning Element Autoship Customer, I am eligible to purchase patches at the Subscription price as long as I maintain an active monthly Subscription order. The monthly Autoship Subscription price in $65.00. The minimum Autoship Subscription period is three (3) months. Any cancellation within 3 months and I will forfeit the Autoship Subscription discount and will be charged $65.00 with applicable taxes for each B.E. Well Patch package received.

I authorize Tuning Element to submit a charge for payment from my credit or debit card as provided to Tuning Element for my monthly Subscription purchase of patches that are specifically identified in this

online purchase transaction on tuningelem.wpengine.com. I understand the applicable sales tax will be added to each order. Shipping and handling is Free for Tuning Element Autoship Customer orders.

I understand that my first order will be processed and shipped within two (2) business days of Tuning Element receiving my website B.E. Well Patch Autoship order. Furthermore, I understand that periodic shipments of the product that I have ordered will occur without any further action by me. I understand that there will be approximately a one (1) month interval between each shipment. I understand that applicable shipping, and sales taxes will be added to my Subscription order amount each month, based on the address to which my Subscription orders are sent. I authorize Tuning Element to add such amount to the amount charged to the credit or debit card as provided to Tuning Element.

I understand that if I wish to make changes to my Autoship Subscription order quantity or shipping address, I can do so by contacting Tuning Element at least three (3) business days prior to the next monthly Subscription date.

I understand that my Subscription order will remain in effect until I contact Customer Care by calling 1.417.973.0000 or by emailing [email protected], or by writing, Tuning Element, Attn: B.E Well Patch at 1440 ST HWY 248, STE Q435, Branson, MO 65616. Notice of cancellation must be received by Tuning Element at least ten (10) business days prior to the monthly Subscription date: cancellation will become effective in the month following the month in which my notice of cancellation is received by Tuning Element.

I understand that I may cancel my Subscription order within ten (10) business days of the date of the monthly anniversary date of my original B.E. Well Patch Autoship order.

I understand I may voluntarily cancel my Tuning Element Autoship Account at any time by sending a request to Tuning Element via email or mail. If by mail, the request must contain my name, shipping address and last four (4) numbers of the credit card on file. If by email, it must contain my name and shipping address and come from the email account on record.

I understand that Tuning Element may amend the Autoship Customer Agreement. I agree to be bound by all such amendments and that my only remedy for not accepting such amendments is to immediately terminate this Agreement. By placing an order or accepting an order after the publication of any amendment will constitute my acceptance of the amended Agreement.

I understand that this agreement does not grant me any rights to resell the B.E. Well Patch.
Insufficient Funds and Declined Credit Tuning Element reserves the right to assess a reasonable charge for any electronic funds transfer returned unpaid by your bank. Thereafter, Tuning Element reserves the right to deny your request to order products online through the Electronic Bank Draft Program. In the event that your credit card charge is declined, your order will not be accepted.
Shipping Discrepancies If you fail to notify Tuning Element of any shipping discrepancy or damage within fifteen (15) days of shipment, you may lose your right to request a correction.
These Purchase Terms and Conditions and your Purchase Agreement represent the complete agreement between you and Tuning Element with respect to your online product purchase and supersede all prior or contemporaneous agreements or understandings, whether oral or written.
This Agreement will be governed by and interpreted in accordance with the laws of the State of Missouri, U.S.A. Any action relating to the use of the Tuning Element web site or your online purchase must be brought in the state or federal courts located in the State of Missouri, Green County.
By completing this purchase, I understand, I am applying to become a Tuning Element Autoship Customer. I acknowledge that I have read and agree to the Terms and Conditions of this Agreement.